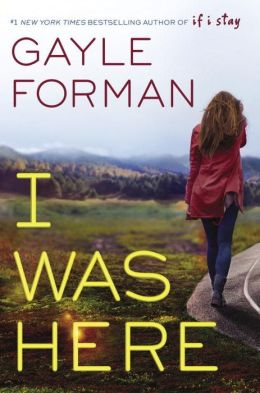 I Was Here
by
Gayle Forman
Synopsis
Cody and Meg were inseparable.
Two peas in a pod.
Until . . . they weren't anymore.
When her best friend Meg drinks a bottle of industrial-strength cleaner alone in a motel room, Cody is understandably shocked and devastated. She and Meg shared everything—so how was there no warning? But when Cody travels to Meg's college town to pack up the belongings left behind, she discovers that there's a lot that Meg never told her. About her old roommates, the sort of people Cody never would have met in her dead-end small town in Washington. About Ben McAllister, the boy with a guitar and a sneer, and some secrets of his own. And about an encrypted computer file that Cody can't open—until she does, and suddenly everything Cody thought she knew about her best friend's death gets thrown into question.
I Was Here
is Gayle Forman at her finest, a taut, emotional, and ultimately redemptive story about redefining the meaning of family and finding a way to move forward even in the face of unspeakable loss.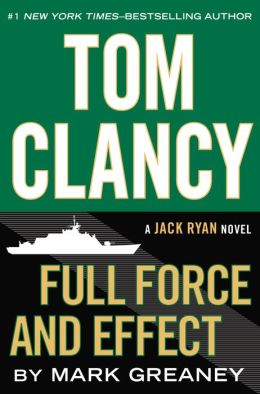 Tom Clancy Full Force and Effect
by
Mark Greaney
Synopsis
A North Korean ICBM crashes into the Sea of Japan. A veteran CIA officer is murdered in Ho Chi Minh City, and a package of forged documents goes missing. The pieces are there, but assembling the puzzle will cost Jack Ryan, Jr. and his fellow Campus agents precious time. Time they don't have.
The challenge facing President Jack Ryan is an old one with a terrifying new twist. The international stalemate with North Korea continues into its seventh decade. A young, untested dictator is determined to prove his strength by breaking the deadlock. Like his father before him, he hangs his plans on the country's nuclear ambitions. Until now, that program was impeded by a lack of resources. However, there has been a dramatic change in the nation's economic fortune. A rich deposit of valuable minerals have been found in the Hermit Kingdom. Coupled with their nuclear capabilities, the money from this find will make North Korea a dangerous force on the world stage.
There's just one more step needed to complete this perfect plan…the elimination of the president of the United States.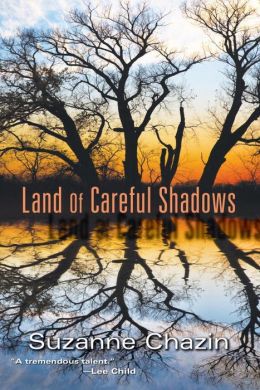 Land of Careful Shadows
(A Jimmy Vega Mystery)
by
Suzanne Chazin
Synopsis
"A tremendous talent."--Lee Child
From award-winning author Suzanne Chazin comes a powerful novel of passion, bigotry, and murderous secrets in a homicide detective's picturesque hometown…
A body is found in a reservoir fifty miles north of New York City. The victim is young, female and Hispanic. In her purse, the police find a photograph of a baby they believe is her daughter--a little girl they can't identify. Or find. Where is the child? Is she still alive? And what is the meaning behind the disturbing note in the woman's bag? "Go back to your country. You don't belong here."
Arriving at the scene is homicide detective Jimmy Vega, who spent the better part of his childhood in the area and still carries the scars. A Latino himself, Vega knows all too well how hard it can be for an outsider to fit into a close-knit place like Lake Holly. Even now, as a respected officer of the law, he has to watch his step in an investigation simmering with ethnic animosities and steeped in local gossip. Both challenged and intrigued by Adele Figueroa--a passionate defender of immigrants' rights who reminds him uncomfortably of his own family's struggles--Vega must rethink everything he believes to uncover long-buried truths about his community, his loved ones . . . and himself.
Filled with drama, mystery and raw emotions, Land of Careful Shadows shines a nuanced and timely light on a small town's darkest secrets and deepest obsessions. It is not only a tour de force of literary suspense, but an intimate journey into the human heart
The Boston Girl: A Novel
by
Anita Diamant
From the New York Times bestselling author of The Red Tent and Day After Night, comes an unforgettable novel about family ties and values, friendship and feminism told through the eyes of a young Jewish woman growing up in Boston in the early twentieth century.
Addie Baum is The Boston Girl, born in 1900 to immigrant parents who were unprepared for and suspicious of America and its effect on their three daughters. Growing up in the North End, then a teeming multicultural neighborhood, Addie's intelligence and curiosity take her to a world her parents can't imagine—a world of short skirts, movies, celebrity culture, and new opportunities for women. Addie wants to finish high school and dreams of going to college. She wants a career and to find true love.
Eighty-five-year-old Addie tells the story of her life to her twenty-two-year-old granddaughter, who has asked her "How did you get to be the woman you are today." She begins in 1915, the year she found her voice and made friends who would help shape the course of her life. From the one-room tenement apartment she shared with her parents and two sisters, to the library group for girls she joins at a neighborhood settlement house, to her first, disastrous love affair, Addie recalls her adventures with compassion for the naïve girl she was and a wicked sense of humor.
Written with the same attention to historical detail and emotional resonance that made Anita Diamant's previous novels bestsellers, The Boston Girl is a moving portrait of one woman's complicated life in twentieth century America, and a fascinating look at a generation of women finding their places in a changing world.
Die Again (Rizzoli and Isles Series #11)
by
Tess Gerritsen
Detective Jane Rizzoli and medical examiner Maura Isles are back—and they're going into the wild to find a killer. Die Again is the latest heart-pounding thriller in Tess Gerritsen's New York Times bestselling series, the inspiration behind TNT's hit show Rizzoli & Isles.
When Boston homicide detective Jane Rizzoli and medical examiner Maura Isles are summoned to a crime scene, they find a killing worthy of the most ferocious beast—right down to the claw marks on the corpse. But only the most sinister human hands could have left renowned big-game hunter and taxidermist Leon Gott gruesomely displayed like the once-proud animals whose heads adorn his walls. Did Gott unwittingly awaken a predator more dangerous than any he's ever hunted?
Maura fears that this isn't the killer's first slaughter, and that it won't be the last. After linking the crime to a series of unsolved homicides in wilderness areas across the country, she wonders if the answers might actually be found in a remote corner of Africa.
Six years earlier, a group of tourists on safari fell prey to a killer in their midst. Marooned deep in the bush of Botswana, with no means of communication and nothing but a rifle-toting guide for protection, the terrified tourists desperately hoped for rescue before their worst instincts—or the wild animals prowling in the shadows—could tear them apart. But the deadliest predator was already among them, and within a week, he walked away with the blood of all but one of them on his hands.
Now this killer has chosen Boston as his new hunting ground, and Rizzoli and Isles must find a way to lure him out of the shadows and into a cage. Even if it means dangling the bait no hunter can resist: the one victim who got away.
Saint Odd (Odd Thomas Series #7)
by
Dean Koontz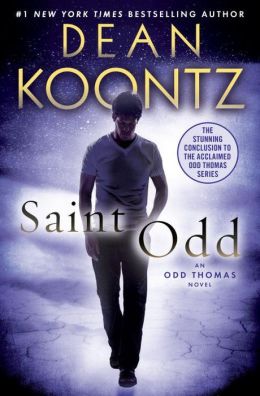 From "one of the master storytellers of this or any age" (The Tampa Tribune) comes the stunning final adventure of "one of the most remarkable and appealing characters in current fiction"(The Virginian-Pilot)—as #1 New York Times bestselling author Dean Koontz brings the unforgettable odyssey of Odd Thomas to its dazzling conclusion.
Odd Thomas is back where it all started . . . because the time has come to finish it. Since he left his simple life in the small town of Pico Mundo, California, his journey has taken him to places strange and wonderful, mysterious and terrifying. Across the land, in the company of mortals and spirits alike, he has known kindness and cruelty, felt love and loss, saved lives and taken them—as he's borne witness to humanity's greatest good and darkest evil. Again and again, he has gone where he must and done what he had to do—for better or worse—with his courage and devotion sorely tested, and his soul forever changed. Every triumph has been hard won. Each sacrifice has taken its toll.
Now, whatever destiny drives him has finally steered his steps home, where those he cares for most surround him, the memory of his tragically lost true love haunts him, and one last challenge—vast and dreadful—awaits him. For Odd Thomas, born to serve a purpose far greater than himself, the wandering is done. Only the reckoning remains.
No Fortunate Son: A Pike Logan Thriller
by
Brad Taylor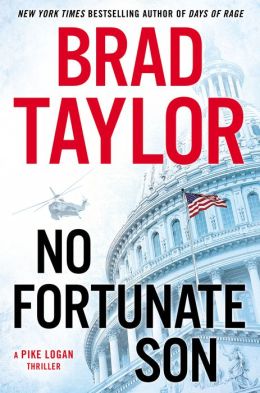 In the latest military thriller from the retired Delta Force Operator and New York Times bestselling author, a hostage situation places America's most powerful political elite at the mercy of its worst enemies.
When veteran operator Pike Logan and partner Jennifer Cahill receive a letter from Blaisdell Consulting—the umbrella cover company for their real employer, a top secret counterterrorist unit called the Taskforce—they expect orders for their next mission-impossible tasking. Instead, they learn that their latest actions have gotten them fired, despite having saved thousands of innocent lives.
Pike's shock and fury is redirected when their commander, Colonel Kurt Hale, asks him and Jennifer for help with a personal matter: His niece Kylie, an exchange student in England, has gone missing. Neither Pike nor Jennifer understands how critical her disappearance will become.
Meanwhile, all Taskforce teams have been redirected to a developing situation. A terrorist organization has targeted military relatives of key members of the US government, including the vice president's son. Their seizure of hostages was far-reaching and meticulously coordinated, and the full extent of the threat—and potential demands—has thrown the government into turmoil. They face a terrible choice: Cease counter-terrorist operations, or watch hostages die one by one. How much is a single life worth? Unless the Taskforce can decipher the web of lies devised by their enemies, the United States is about to find out.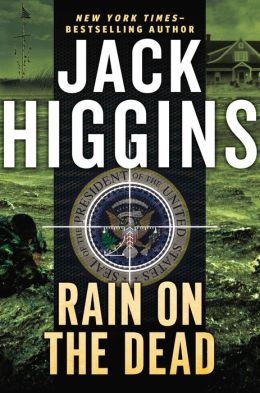 Rain on the Dead
by
Jack Higgins
Synopsis
The past comes back to haunt Sean Dillon and his colleagues, as the New York Times–bestselling master of suspense returns with a knife-edge story of terrorism, revenge, and a very old nemesis.
In the past few years, the killing and capture of many Al-Qaeda leaders has left the terrorist organization wounded—but by no means dead. And they intend to prove it.
On a dark summer night, two Chechen mercenaries emerge from the waters off Nantucket to kill a high-value target, the former president of the United States, Jake Cazalet. Unfortunately for them, Cazalet has guests with him, including black ops specialist Sean Dillon and his colleague, Afghan war hero Captain Sara Gideon.
The Chechens do not survive the night, but Dillon is curious as to how they even got on the island. What he discovers sends a chill through his bones—a name from very far back in Dillon's past. If
this
man is working with the terrorists now, the assassination attempt is only the beginning—and the next time, the results might be much, much different.
Woman with a Gun: A Novel
by
Phillip Margolin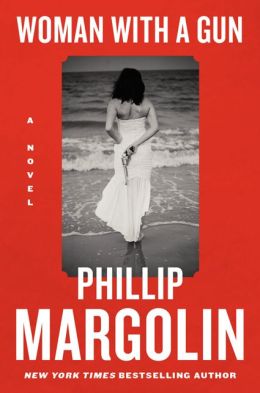 Synopsis
This compelling thriller, from
new york times
bestseller Phillip Margolin, centers on an intriguing photograph that may contain long-hidden answers to the mystery of a millionaire's murder.
At a retrospective on the work of acclaimed photographer Kathy Moran, aspiring novelist Stacey Kim is fascinated by the exhibition's centerpiece: the famous Woman with a Gun, which launched the artist's career. Shot from behind, the enigmatic black-and-white image depicts a woman in a wedding dress standing on the shore at night, facing the sea. But this is no serene, romantic portrait. In her right hand, which is hidden behind her back, she holds a six-shooter.
The picture captures Stacey's imagination and raises a host of compelling questions:
Who is this woman?
Is this a photograph of her on her wedding day? Does she plan to kill herself or someone else?
Obsessed with finding answers, she soon discovers the identity of the woman: a suspect in a ten-year-old murder investigation. Convinced that proof of the woman's guilt, or innocence, is somehow connected to the photograph, Stacey embarks on a relentless investigation.
Drawn deeper into the case, Stacey finds that everyone involved has a different opinion of the woman's culpability. But the one person who may know the whole story—Kathy Moran—isn't talking. Stacey must find a way to get to the reclusive photographer, and get her to talk, or the truth about what happened that day will stay forever hidden in the shadows.
Hush
by
Karen Robards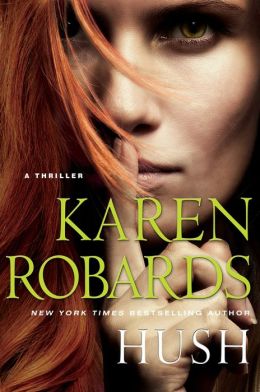 Synopsis
In
New York Times
bestselling author Karen Robards's latest heart-pounding romantic suspense novel, a woman must track down her husband's murderer—or risk being the next victim of a vicious killer.
When Riley Cowan finds her estranged husband Jeff dead in his palatial home, she's sure it's no coincidence. The police rule it a suicide, but Riley thinks someone's out for blood—specifically someone Jeff's father ripped off in one of the biggest financial fraud cases of all time. She suspects that someone is trying to send a message to Jeff's father: Tell me where the money is, or everyone you care about will die.
Riley's in-laws might be billionaires, but she's afraid that not even their dirty money can protect her from an irate investor who will stop at nothing to get his hands on his misappropriated cash. Enter Finn Bradley, Philly-based FBI agent and Riley's love interest from way back when. Finn agrees to help Riley, and the two reignite sparks they both thought were extinguished long ago. But can they discover the killer's identity in time, before he resurfaces—and strikes again?
Dubbed an "exceptional storyteller" by the
Chicago Tribune
and "one of the most popular voices in women's fiction" by
Newsweek
, Karen Robards's latest action-packed novel will keep you glued to the pages until the final, shocking conclusion.
A.D. 30: A Novel
by
Ted Dekker
Synopsis
A sweeping epic set in the harsh deserts of Arabia and ancient Palestine.
A war that rages between kingdoms on the earth and in the heart.
The harrowing journey of the woman at the center of it all.
Step back in time to the year of our Lord...A.D. 30.
The outcast daughter of one of the most powerful Bedouin sheikhs in Arabia, Maviah is called on to protect the very people who rejected her. When their enemies launch a sudden attack with devastating consequences, Maviah escapes with the help of two of her father's warriors--Saba who speaks more with is sword than his voice and Judah, a Jew who comes from a tribe that can read the stars. Their journey will be fraught with terrible danger. If they can survive the vast forbidding sands of a desert that is deadly to most, they will reach a brutal world subjugated by kings and emperors. There Maviah must secure an unlikely alliance with King Herod of the Jews.
But Maviah's path leads her unexpectedly to another man. An enigmatic teacher who speaks of a way in this life which offers greater power than any kingdom. His name is Yeshua, and his words turn everything known on its head. Though following him may present even greater danger, his may be the only way for Maviah to save her people--and herself.