Storytelling for a Greener World: Environment, Community, and Story-Based Learning
by
Alida Gersie (Editor), Anthony Nanson (Editor), Edward Schieffelin (Editor)
Synopsis
Storytelling for a Greener World
is a treasury of forty-three stories, creative activities, techniques, tips, and descriptions of inspiring practice to both empower newcomers and seasoned storytellers. The book provides a handy, unique, and authoritative resource for developing innovative story-work and will be a key sourcebook of lasting usefulness.
This handbook offers time-tested stories, creative activities, and methods that environmental educators and storytellers can use to encourage sound environmental behavior. Whether it is a brief mention of seeing a skein of geese flying in an evening sky or children from a rough area being inspired by kittiwakes, both adults and children can engage profoundly with nature through the imaginative power of story, with lasting personal and environmental changes.
Storytelling for a Greener World
explores the links between storytelling and emotional literacy; place and environmental justice; connecting with alienated youngsters and encouraging children and adult curiosity about nature; building community and sustainability; indigenous peoples and local legends; human–animal communication and how to co-create a sustainable future together.
The Wreath Recipe Book:
Year-Round Wreaths, Swags, and Other Decorations to Make with Seasonal Branches
by
Alethea Harampolis, Jill Rizzo
Synopsis
From the authors of the widely popular
Flower Recipe Book
,and in the same successful format,
The Wreath Recipe Book
provides 100 "recipes" to make with flowering and leafy branches. These aren't just evergreens for Christmas—the book is organized seasonally, with dozens of projects to make throughout the year.In the spring, a cherry blossom bough gets a touch of whimsy with a colorful ribbon, and a tabletop is adorned with lilacs and olive branches. In the summer, a garland features sage with pomegranates and citrus-colored strawflowers. In the fall, wreaths are created with magnolias, rosemary, and plums, and gourds are used to create an unexpected garland. Winter highlights cedar, pine, and juniper, yielding unexpected table settings and new wreath shapes. There are detailed ingredient lists and hundreds of step-by-step photos as well as chapters covering basic techniques, sourcing, and care information.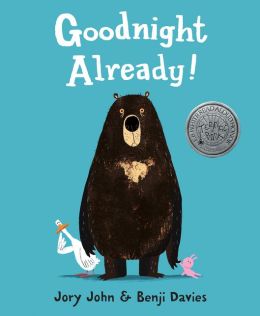 Goodnight Already!
by
Jory John, Benji Davies (Illustrator)
(Children's)
Synopsis
Meet Bear. He's exhausted. All he wants is to go to sleep. Meet Duck, Bear's persistent next-door neighbor. All he wants is to hang out . . . with Bear.
Jory John, author of
All My Friends Are Dead
, and Benji Davies join together to create this standout hilarious picture book that will make bedtime memorable.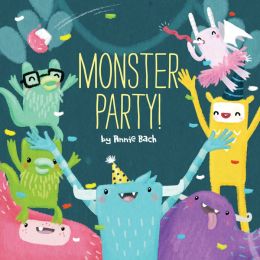 Monster Party!
by
Annie Bach
(Children's)
Synopsis
Monster's invited—and monster's delighted! Come and join the monster bash. There's spinning and pinning, high-fiving and jiving, and munching, crunching, and buggy-food lunching. But when it all ends, Monster must leave his fun-loving friends. There's crying and sighing—until Monster discovers a happy surprise waiting for him at home. This wacky celebration will be a hit with kids!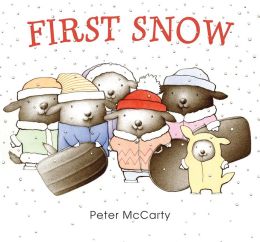 First Snow
by
Peter McCarty
(Children's)
Synopsis
First Snow
is the newest picture book from acclaimed Caldecott Honor–winning author-illustrator Peter McCarty, which extends the winning world of animal characters established in
Chloe
, a Kids' Indie Next List Pick and
Kirkus Reviews
Best Children's Book, and
Henry in Love
, a
New York Times
Best Illustrated Book.
It's a day of firsts for Pedro . . . First snowfall. First snow angel. First taste of a snowflake. First sled run. First snowball fight!
All the joy, magic, and wonder of a child's first experiences are captured in this breathtaking picture book.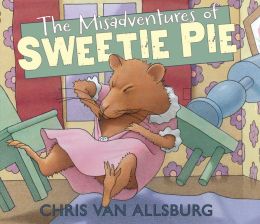 The Misadventures of Sweetie Pie
by
Chris Van Allsburg
(Children's)
Synopsis
From two-time Caldecott winner Chris Van Allsburg, creator of
Jumanji
and
The Polar
Express,
comes a poignant story of one hamster's struggle with destiny. Being a pet store hamster isn't much fun for Sweetie Pie, but life in human homes proves downright perilous. As Sweetie Pie longingly gazes out of his cage at the squirrels frolicking in the trees, he wonders if he'll ever have the chance to feel the wind in his fur. Allsburg's expressive, soft-hued illustrations artfully capture a hamster's-eye view of the wide and wonderful world where maybe, just maybe, Sweetie Pie could someday run free.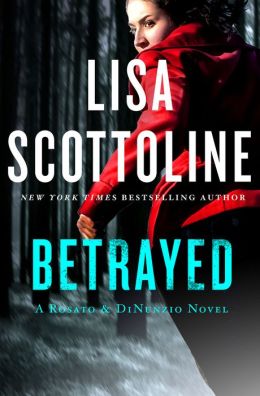 Betrayed (Rosato & Associates Series #13)
by
Lisa Scottoline
Synopis
Blockbuster author Lisa Scottoline returns to the Rosato & Associates law firm with
Betrayed
, and maverick lawyer Judy Carrier takes the lead in a case that's more personal than ever. Judy has always championed the underdog, so when Iris, the housekeeper and best friend of Judy's beloved Aunt Barb, is found dead of an apparent heart attack, Judy begins to suspect foul play. The circumstances of the death leave Judy with more questions than answers, and never before has murder struck so close to home.
In the meantime, Judy's own life roils with emotional and professional upheaval. She doesn't play well with her boss, Bennie Rosato, which jeopardizes her making partner at the firm. Not only that, her best friend Mary DiNunzio is planning a wedding, leaving Judy feeling left behind, as well as newly unhappy in her relationship with her live-in boyfriend Frank.
Judy sets her own drama aside and begins an investigation of Iris's murder, then discovers a shocking truth that confounds her expectations and leads her in a completely different direction. She finds herself plunged into a shadowy world of people who are so desperate that they cannot go to the police, and where others are so ruthless that they prey on vulnerability. Judy finds strength within herself to try to get justice for Iris and her aunt — but it comes at a terrible price.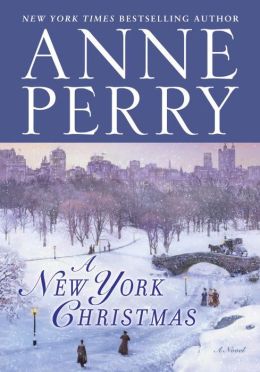 A New York Christmas
by
Anne Perry
Synopsis
Anne Perry's new Christmas novel is an irresistible tale of love, betrayal, greed, murder, and selfless devotion. For the first time, Perry's annual yuletide offering is set in New York City—a sparkling young metropolis bursting with life, promise, and subtle menace.
The year is 1904. Twenty-three-year-old Jemima Pitt, the daughter of Thomas Pitt, head of Britain's Special Branch, is crossing the Atlantic. She is traveling with an acquaintance, Delphinia Cardew, who is to marry the aristocratic Brent Albright in a high-society New York wedding—a grand affair that will join together two fabulously wealthy families, titans of the international financial world.
But Jemima senses a mysterious shadow darkening the occasion. Missing from the festivities is Delphinia's mother, Maria, who is marked by disgrace. Nearly sixteen years ago, Maria abandoned young Delphinia and disappeared—and now the Albrights refuse to mention her name. But when Harley, the groom's charismatic brother, asks Jemima to help him search for Maria and forestall the scandal that would surely follow if the prodigal parent turned up at the wedding, she agrees to assist him.
From Hell's Kitchen to Fifth Avenue, the Lower East Side to Central Park, Jemima trudges through strange, snowy streets, asking questions but getting few answers—and never suspecting that she is walking into mortal danger, from which not even a handsome young police officer named Patrick Flannery may be able to protect her.
Once more, Anne Perry delivers a suspenseful, deeply moving novel that captures the essence of the holiday spirit.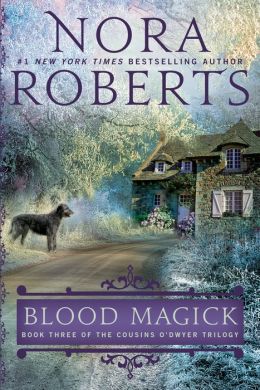 Blood Magick (Cousins O'Dwyer Trilogy #3)
by
Nora Roberts
Synopsis
From #1 New York Times bestselling author Nora Roberts comes a trilogy about the land we're drawn to, the family we learn to cherish, and the people we long to love…
Book Three of The Cousins O'Dwyer Trilogy
Blood Magick
County Mayo is rich in the traditions of Ireland, legends that Branna O'Dwyer fully embraces in her life and in her work as the proprietor of The Dark Witch shop, which carries soaps, lotions, and candles for tourists, made with Branna's special touch.
Branna's strength and selflessness hold together a close circle of friends and family—along with their horses and hawks and her beloved hound. But there's a single missing link in the chain of her life: love…
She had it once—for a moment—with Finbar Burke, but a shared future is forbidden by history and blood. Which is why Fin has spent his life traveling the world to fill the abyss left in him by Branna, focusing on work rather than passion.
Branna and Fin's relationship offers them both comfort and torment. And though they succumb to the heat between them, there can be no promises for tomorrow. A storm of shadows threatens everything that their circle holds dear. It will be Fin's power, loyalty, and heart that will make all the difference in an age-old battle between the bonds that hold their friends together and the evil that has haunted their families for centuries.
Don't miss the first two books in the Cousins O'Dwyer Trilogy
Dark Witch
and
Shadow Spell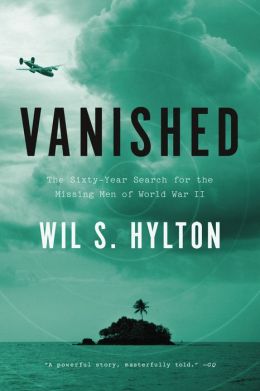 Vanished:
The Sixty-Year Search for the Missing Men of World War II
by
Wil S. Hylton
Synopsis
Praised by Robert Kurson, Philipp Meyer, Hampton Sides, Michael Paterniti, and many others

"A powerful story, masterfully told."—GQ
"[A] deeply textured, propulsive new book...a phenomenal writer."—TIME.com
"Marries an almost cinematically well-paced narrative with a deep sensitivity to the people whose lives it tells."—The Boston Globe
"Superb... Part Pacific Theater history, part Indiana Jones thriller."—Newsday
As featured on NPR's Weekend Edition and The Diane Rehm Show
In the fall of 1944, a massive American bomber carrying eleven men vanished over the Pacific islands of Palau, leaving a trail of mysteries. According to mission reports from the Army Air Forces, the plane crashed in shallow water—but when investigators went to find it, the wreckage wasn't there. Witnesses saw the crew parachute to safety, yet the airmen were never seen again. Some of their relatives whispered that they had returned to the United States in secret and lived in hiding. But they never explained why.
For sixty years, the U.S. government, the children of the missing airmen, and a maverick team of scientists and scuba divers searched the islands for clues. They trolled the water with side-scan sonar, conducted grid searches on the seafloor, crawled through thickets of mangrove and poison trees, and flew over the islands in small planes to shoot infrared photography. With every clue they found, the mystery only deepened.
Now, in a spellbinding narrative, Wil S. Hylton weaves together the true story of the missing men, their final mission, the families they left behind, and the real reason their disappearance remained shrouded in secrecy for so long. This is a story of love, loss, sacrifice, and faith—
of the undying hope among the families of the missing, and the relentless determination of scientists, explorers, archaeologists, and deep-sea divers to solve one of the enduring mysteries of World War II.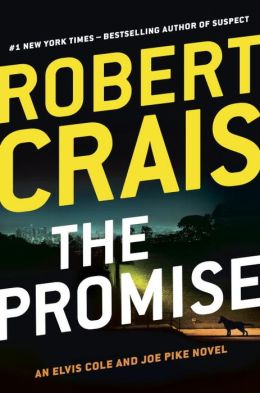 The Promise

(Elvis Cole and Joe Pike Series #16)
by
Robert Crais
Synopsis
Elvis Cole and Joe Pike are joined by Suspect heroes Scott James and his K-9 partner, Maggie, in the new masterpiece of suspense from the #1 New York Times–bestselling author.
Loyalty, commitment, the fight against injustice—these are the things that have always driven Elvis Cole and Joe Pike. If they make a promise, they
keep
it. Even if it could get them killed.
When Elvis Cole is hired to locate a woman who may have disappeared with a stranger she met online, it seems like an ordinary case—until Elvis learns the missing woman worked for a defense contractor and was being blackmailed to supply explosives components for a person or persons unknown.
Meanwhile, in another part of the city, LAPD officer Scott James and his patrol dog, Maggie, enter an abandoned building to locate an armed and dangerous thief, only to discover far more than they expected: The fugitive is dead, the building is filled with explosives, and Scott and Maggie are assaulted by a hidden man who escapes in the chaos, all as a bloodied Joe Pike watches from the shadows.
Soon, Scott and Maggie find themselves targeted by that man, and, as their case intertwines with Elvis and Joe's, joining forces to follow the trail of the missing woman as well. From inner-city drug traffickers to a shadowy group of Afghan war veterans with ties to a terrorist cell, the people they encounter on that trail add up to ever-increasing odds, and soon the four of them are fighting to find the woman not only before she is killed . . . but before the same fate happens to one of them.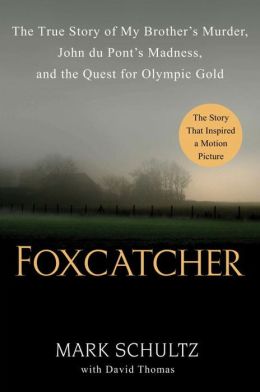 Foxcatcher: The True Story of My Brother's Murder, John du Pont's Madness, and the Quest for Olympic Gold
by
Mark Schultz, David Thomas
Synopsis
The riveting true story—soon to be the subject of a high-profile film—of Olympic wrestling gold medal-winning brothers Mark Schultz and Dave Schultz and their fatal relationship with the eccentric John du Pont, heir to the du Pont dynasty
On January 26, 1996, Dave Schultz, Olympic gold medal winner and wrestling golden boy, was shot three times by du Pont family heir John E. du Pont at the famed Foxcatcher Farms estate in Pennsylvania. Following the murder there was a tense standoff when du Pont barricaded himself in his home for two days before he was finally captured.
Foxcatcher
is gold medal winner Mark Schultz's memoir, revealing what made him and his brother champion and what brought them to Foxcatcher Farms. It's a vivid portrait of the complex relationship he and his brother had with du Pont, a man whose catastrophic break from reality led to tragedy. No one knows the inside story of what went on behind the scenes at Foxcatcher Farms—and inside John du Pont's head—better than Mark Schultz.
The incredible true story of these championship-winning brothers and the wealthiest convicted murderer of all time will be making headlines this fall, and Mark's memoir will reveal the true inside story.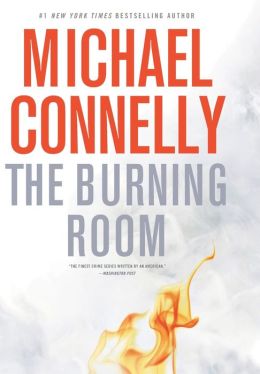 The Burning Room (Harry Bosch Series #19)
by
Michael Connelly
Synopsis
The new thriller from #1 New York Times bestselling author Michael Connelly follows Detective Harry Bosch and his new partner as they investigate a recent murder where the trigger was pulled nine years earlier.
In the LAPD's Open-Unsolved Unit, not many murder victims die almost a decade after the crime. So when a man succumbs to complications from being shot by a stray bullet nine years earlier, Bosch catches a case in which the body is still fresh, but all other evidence is virtually nonexistent.
Now Bosch and rookie Detective Lucia Soto, are tasked with solving what turns out to be a highly charged, politically sensitive case. Beginning with the bullet that's been lodged for years in the victim's spine, they must pull new leads from years-old information, which soon reveal that this shooting may have been anything but random.
In this gripping new novel, Michael Connelly shows once again why Harry Bosch is "one of the greats of crime fiction" (
New York Daily News
).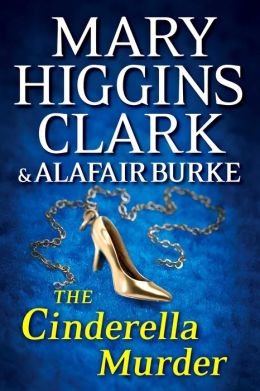 The Cinderella Murder (Under Suspicion Series #1)
by
Mary Higgins Clark, Alafair
Burke
Synopsis
In a first-time collaboration, "Queen of Suspense" Mary Higgins Clark partners with bestselling author Alafair Burke to deliver a brand new suspense series about a television program featuring cold case murders.
Television producer Laurie Moran is delighted when the pilot for her reality drama,
Under Suspicion
, is a success. Even more, the program—a cold case series that revisits unsolved crimes by recreating them with those affected—is off to a fantastic start when it helps solve an infamous murder in the very first episode.
Now Laurie has the ideal case to feature in the next episode of
Under Suspicion
: the Cinderella Murder. When Susan Dempsey, a beautiful and multi-talented UCLA student, was found dead, her murder raised numerous questions. Why was her car parked miles from her body? Had she ever shown up for the acting audition she was due to attend at the home of an up-and-coming director? Why does Susan's boyfriend want to avoid questions about their relationship? Was her disappearance connected to a controversial church that was active on campus? Was she close to her computer science professor because of her technological brilliance, or something more? And why was Susan missing one of her shoes when her body was discovered?
With the help of lawyer and
Under Suspicion
host Alex Buckley, Laurie knows the case will attract great ratings, especially when the former suspects include Hollywood's elite and tech billionaires. The suspense and drama are perfect for the silver screen—but is Cinderella's murderer ready for a close-up?
Together Mary Higgins Clark and Alafair Burke deliver an exciting publishing event: the start of a thrilling new series guaranteed to keep you guessing until the last suspenseful page.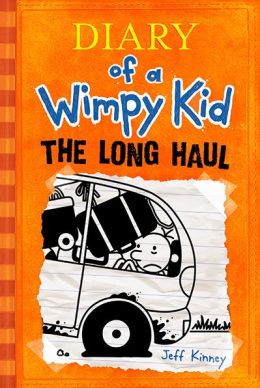 The Long Haul (Diary of a Wimpy Kid Series #9)
by
Jeff Kinney
(Junior Fiction)
Synopsis
A family road trip is supposed to be a lot of fun . . . unless, of course, you're the Heffleys. The journey starts off full of promise, then quickly takes several wrong turns. Gas station bathrooms, crazed seagulls, a fender bender, and a runaway pig—not exactly Greg Heffley's idea of a good time. But even the worst road trip can turn into an adventure—and this is one the Heffleys won't soon forget.
The Escape
by
David Baldacci
Synopsis
David Baldacci is one of the world's most popular, widely-read storytellers.
In his blockbuster thrillers
Zero Day
and
The Forgotten
, readers met John Puller. A combat veteran and special agent with the U.S. Army, Puller is the man they call to investigate the toughest crimes facing the nation.
But all his training, all his experience, all his skills will not prepare him for his newest case, one that will force him to hunt down the most formidable and brilliant prey he has ever tracked: his own brother.
THE ESCAPE
It's a prison unlike any other. Military discipline rules. Its security systems are unmatched. None of its prisoners dream of escaping. They know it's impossible.
Until now.
John Puller's older brother, Robert, was convicted of treason and national security crimes. His inexplicable escape from prison makes him the most wanted criminal in the country. Some in the government believe that John Puller represents their best chance at capturing Robert alive, and so Puller takes on the burden of bringing his brother in to face justice.
But Puller quickly discovers that there are others pursuing his brother, who only see Robert as a traitor and are unconcerned if he survives. Puller is in turn pushed into an uneasy, fraught partnership with another agent, who may have an agenda of her own.
They dig more deeply into the case together, and Puller finds that not only are her allegiances unclear, but that there are troubling details about his brother's conviction....and that someone is out there who doesn't want the truth to ever come to light. As the nation-wide manhunt for Robert grows more urgent, Puller's masterful skills as an investigator and strength as a fighter may not be enough to save his brother-or himself.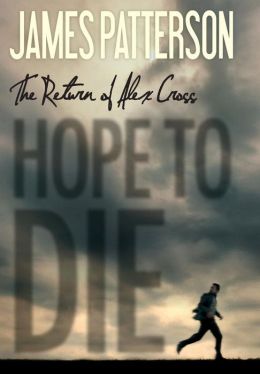 Hope to Die (Alex Cross Series #22)
by
James Patterson
Synopsis
Detective Alex Cross is being stalked by a psychotic genius, forced to play the deadliest game of his career. Cross's family—his loving wife Bree, the wise and lively Nana Mama, and his precious children—have been ripped away. Terrified and desperate, Cross must give this mad man what he wants if he has any chance of saving the most important people in his life. The stakes have never been higher: What will Cross sacrifice to save the ones he loves?
Widely praised by the greatest crime and thriller writers of our time,
Cross My Heart
set a jaw-dropping story in motion.
Hope to Die
propels Alex Cross's greatest challenge to its astonishing finish, proving why Jeffery Deaver says "nobody does it better" than James Patterson.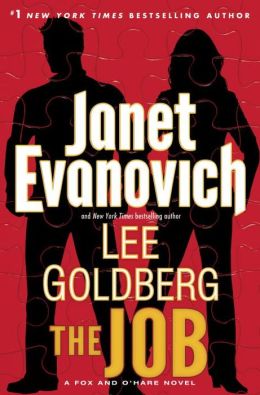 The Job (Fox and O'Hare Series #3)
by
Janet Evanovich, Goldberg Lee
Synopsis
He's a charming con man and she's a dedicated FBI agent, and they're about to drive each other crazy . . . again!
The FBI had one demand when they secretly teamed up Special Agent Kate O'Hare with charming con man Nicolas Fox—bring down the world's most-wanted and untouchable felons. This time it's the brutal leader of a global drug-smuggling empire. The FBI doesn't know what their target looks like, where he is, or how to find him, but Nick Fox has a few tricks up his sleeve to roust this particular Knipschildt chocolate–loving drug lord.
From the streets of Nashville to the back alleys of Lisbon, from the rooftops of Istanbul to the middle of the Thames, Nick and Kate chase their mark. When they find themselves pitted against a psychopathic bodyguard and a Portuguese enforcer who gets advice from a pickled head, they decide it's time to enlist some special talent—talent like a machete-wielding Somali pirate, a self-absorbed actor, an Oscar-winning special effects artist, and Kate's father Jake, a retired Special Forces operative. Together they could help make this Fox and O'Hare's biggest win yet . . . if they survive.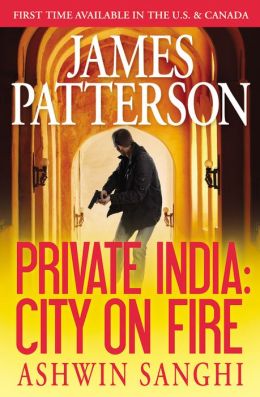 Private India: City on Fire
by
James Patterson, Ashwin Sanghi
Synopsis
When Jack Morgan opens the Mumbai branch of Private, the world's most elite detective agency, he hands the reins to top agent Santosh Wagh. Now, in this teeming metropolis of over thirteen million people where the guilty have everywhere to hide, Santosh goes on the hunt for one elusive killer. A killer who is targeting seemingly unconnected women and placing strange objects at their death scenes in a series of chilling rituals.
As the Private team races to find a link that will lead them to the next victim, an unseen menace threatens to destroy the agency from within-and plunge the city into chaos. With countless lives hanging in the balance, Santosh must confront the demons of his past . . . before Private India meets an explosive end.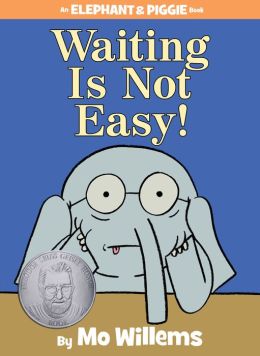 Waiting Is Not Easy! (An Elephant and Piggie Book)
by
Mo Willems
(Children's)
Synopsis
Gerald is careful. Piggie is not.
Piggie cannot help smiling. Gerald can.
Gerald worries so that Piggie does not have to.
Gerald and Piggie are best friends.
In
Waiting Is Not Easy!,
Piggie has a surprise for Gerald, but he is going to have to wait for it. And Wait. And wait some more...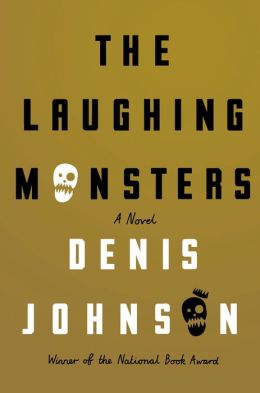 The Laughing Monsters

: A Novel
by
Denis Johnson
Synopsis
Denis Johnson's
The Laughing Monsters
is a high-suspense tale of kaleidoscoping loyalties in the post-9/11 world that shows one of our great novelists at the top of his game.
Roland Nair calls himself Scandinavian but travels on a U.S. passport. After ten years' absence, he returns to Freetown, Sierra Leone, to reunite with his friend Michael Adriko. They once made a lot of money here during the country's civil war, and, curious to see whether good luck will strike twice in the same place, Nair has allowed himself to be drawn back to a region he considers hopeless.
Adriko is an African who styles himself a soldier of fortune and who claims to have served, at various times, the Ghanaian army, the Kuwaiti Emiri Guard, and the American Green Berets. He's probably broke now, but he remains, at thirty-six, as stirred by his own doubtful schemes as he was a decade ago.
Although Nair believes some kind of money-making plan lies at the back of it all, Adriko's stated reason for inviting his friend to Freetown is for Nair to meet Adriko's fiancée, a grad student from Colorado named Davidia. Together the three set out to visit Adriko's clan in the Uganda-Congo borderland—but each of these travelers is keeping secrets from the others. Their journey through a land abandoned by the future leads Nair, Adriko, and Davidia to meet themselves not in a new light, but rather in a new darkness.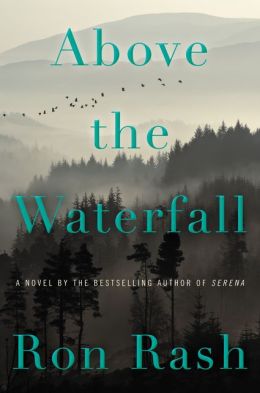 Above the Waterfall
by
Ron Rash
Synopsis
The
New York Times
bestselling author of
Serena
—the basis of the movie starring Academy Award-winner Jennifer Lawrence and Bradley Cooper—illuminates lives shaped by violence, passion, and a powerful connection to the land in this haunting tale set in contemporary Appalachia.
Les, a long-time sheriff nearing retirement, contends with the ravages of poverty and crystal meth on his small Appalachian town. Nestled in a beautiful hollow of the Appalachians, his is a tight-knit community rife with secrets and suspicious of outsiders.
Becky, a park ranger, arrives in this remote patch of North Carolina hoping to ease the anguish of a harrowing past. Searching for tranquility amid the verdant stillness, she finds solace in poetry and the splendor of the land.
A vicious crime will plunge both sheriff and ranger into deep and murky waters, forging an unexpected bond between them. Caught in a vortex of duplicity, lies, and betrayal, they must navigate the dangerous currents of a tragedy that turns neighbor against neighbor—and threatens to sweep them all over the edge.
Echoing the lapsarian beauty of William Faulkner and the spiritual isolation of Carson McCullers,
Above the Waterfall
demonstrates the prodigious talent of an author hailed as "a gorgeous, brutal writer" (Richard Price); "one of the best American novelists of his day" (Janet Maslin,
New York Times
). Lyrical and evocative, tragic and indelible, it is a breathtaking achievement from a literary virtuoso.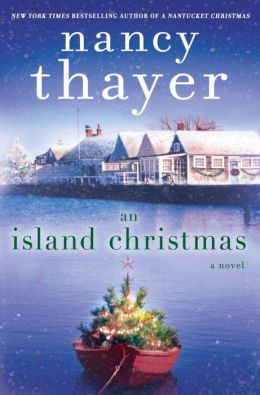 An Island Christmas
by
Nancy Thayer
Synopsis
In this enchanting holiday novel from
New York Times
bestselling author Nancy Thayer, family and friends gather on Nantucket for a gorgeous winter wedding with plenty of merry surprises in store.
As Christmas draws near, Felicia returns to her family's home on the island to marry her adventurous, rugged boyfriend, Archie. Every detail is picture-perfect for a dream wedding: the snow-dusted streets, twinkling lights in the windows, a gorgeous red and white satin dress. Except a lavish ceremony is not Felicia's dream at all; it's what her mother, Jilly, wants. Jilly's also worried that her daughter's life with daredevil Archie will be all hiking and skydiving. Wondering if their handsome neighbor Steven Hardy might be a more suitable son-in-law, Jilly embarks on a secret matchmaking campaign for Felicia and the dashing stockbroker.
As the big day approaches and Jilly's older daughter, Lauren, appears with rambunctious kids in tow, tensions in the household are high. With the family careening toward a Yuletide wedding disaster, an unexpected twist in Nancy Thayer's heartwarming tale reminds everyone about the true meaning of the season.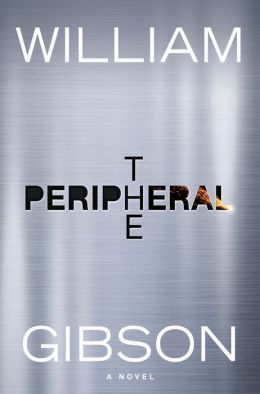 The Peripheral
by
William Gibson
Synopsis
William Gibson returns with his first novel since 2010's New York Times–bestselling Zero History.
Where Flynne and her brother, Burton, live, jobs outside the drug business are rare. Fortunately, Burton has his veteran's benefits, for neural damage he suffered from implants during his time in the USMC's elite Haptic Recon force. Then one night Burton has to go out, but there's a job he's supposed to do—a job Flynne didn't know he had. Beta-testing part of a new game, he tells her. The job seems to be simple: work a perimeter around the image of a tower building. Little buglike things turn up. He's supposed to get in their way, edge them back. That's all there is to it. He's offering Flynne a good price to take over for him. What she sees, though, isn't what Burton told her to expect. It might be a game, but it might also be murder.